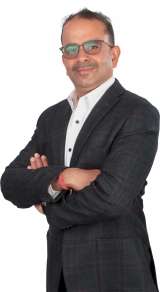 Director's Desk
Dr. Vikas Almadi- CEO & Director DEHN INDIA, with his sheer commitment to serving society, carries more than two decades of leadership expertise in the technology industry. He lives by the saying, "Ours is the world of technology, lies in our hands to make it as powerful it can ever be". He is a leader who has accomplished a strong culture and unmatched determination to innovate and automate best-in-class safety and protection solutions and services.
Having held the pioneering and highest positions in the fields of surge & lightning protection and energy management, his extensive knowledge of the market is exemplary. Since the subsidiary's inception in 2011, he has played a key role in supporting the company through growth initiatives to attain a renowned and most trusted name in the Indian market.
Apart from his Engineering degree, he holds a degree in management from St. Gallen Management Institute and Doctorate in Professional Entrepreneurship and Entrepreneurial Studies from ECU . He is certified Chartered Engineer from Institution of Engineers.